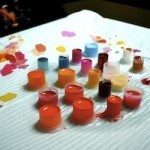 Would you let someone inject an unknown substance under your skin as long as it looked pretty when they were finished? According to a recent NPR report, that's what millions of Americans are doing every year.
The tattoo industry has recently come under scrutiny by the FDA concerning their unregulated use of ink. In the report mentioned above it is clear that no one really knows what is inside these inks.
While some parlors like the well known Zulu Tattoo in Los Angles take great care in selecting safe inks for there tattoos, many other parlors actually add unsafe substances to their ink. As a result, the FDA reports: "We've seen such things as infections, swelling, cracking, peeling and blistering at (the) tattoo site".
I don't have a tattoo but I know several friends that have gone through the process. To my knowledge, none of them have researched the type of ink that was being injected into their skin prior to undergoing the process. After reading this report, it seems like this is something you need to research. The type of ink is much more important than the color of the ink or the design of the tattoo.
Do you have a tattoo? Did you research the type of ink that was being used prior to getting your tattoo? Have you or anyone you know had any bad reactions because of the ink used in your tattoo?