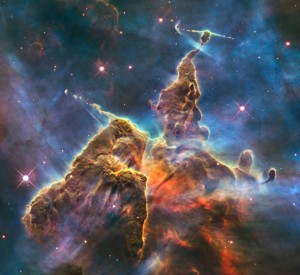 The photo to the right is from the Hubble telescope. It was taken in 1995 and released today as the Hubble web site's photo of the day. As reported here by Wired Science, the photo captures the creation of a star. The web site goes on to state "it makes us wish even more for the eternal life of this famous sattleite."
While this image certainly makes me wish the hubble telescope did not have to be taken out of commission, as a believer in the creator God of the Chrstian Bible, it makes me wish more for the eternal life I will one day spend in the presence of him who created such awesome beauty!
The brilliance of the colors and the gasses captured as a star forms in the remotest section of our universe immediately reminds me of Psalm 19:1. Here, David proclaims "The heavens are telling of the glory of God; and their expanse is declaring the work of His hands." These "Pillars of Creation" as they have been labeled represent only a glimpse of the excellent image of the glory of our almighty God. They cause me to take pause in my day and to meditate on the superior glory of him who created such an amazing sight.
These pillars of creation create a longing in me, much like Paul expreses, for "the blessed hope and the appearing of the glory of our great God and savior, Jesus Christ" (Titus 2:11-15). One day we who trust in him as the creator and sustainer of the universe – as the only means of salvation from our bondage to sin – will sing eternal praises in the presence him and his Son.
"For by Him all things were created, both in the heavens and on earth, visible and invisible, whether thrones or dominions or rulers or authorities– all things have been created through Him and for Him. He is before all things, and in Him all things hold together." – Colossians 1:16-17